Chapin 81008A 81008A 80-Pound Ice Melt and Salt Spreader
Chapin Residential Spreaders redefine what consumers expect from a spreader for home use. The 80-Pound Salt and Ice Melt Spreader boasts a rugged powder coated steel frame, ergonomically designed bail system that allows for use of either hand during operation, baffle system for edge control, and pneumatic tires for just about any terrain. A spiked auger helps tear up clumps and keep salt or ice melt moving freely.
80-Pound capacity hopper with enclosed acetal gear system to withstand the elements, supported by a rugged powder coated steel frame
Recommended for use with salt, Halite, potassium chloride, magnesium chloride and calcium chloride (small and pelletized particulates)
Aggressive spiked auger tears up clumps
Front and side baffle system allows for precise control of spread pattern
Includes snow/rain cover and salt grate
Wide tread 10 in. pneumatic tires for stability on uneven terrain
Applications: Salt, Ice Melt Haylite, Potassium Chloride, Magnesium Chloride (small and pelletized particulates)
Enclosed gear box to protect the gears from debris
Adjustable gate settings
Not recommended with rock salt
Made in the U.S.A.
Dimensions
| | | | |
| --- | --- | --- | --- |
| Product Depth (in.) | 19 | Product Height (in.) | 22.25 |
| Product Length (in.) | 24 in | Product Width (in.) | 24 |
| Spread width (in.) | 72 | | |
Details
| | | | |
| --- | --- | --- | --- |
| Applicator type | Sprayer/Mister | Load Weight Capacity (lb) | 80 |
| Material | Plastic | Pneumatic Tires | Yes |
| Product Weight (lb.) | 26 | | |
| Spreader type | Broadcast | Spreader Usage Type | Ice Melt |
Warranty / Certifications
| | | | |
| --- | --- | --- | --- |
| Manufacturer Warranty | 2 year limited warranty | | |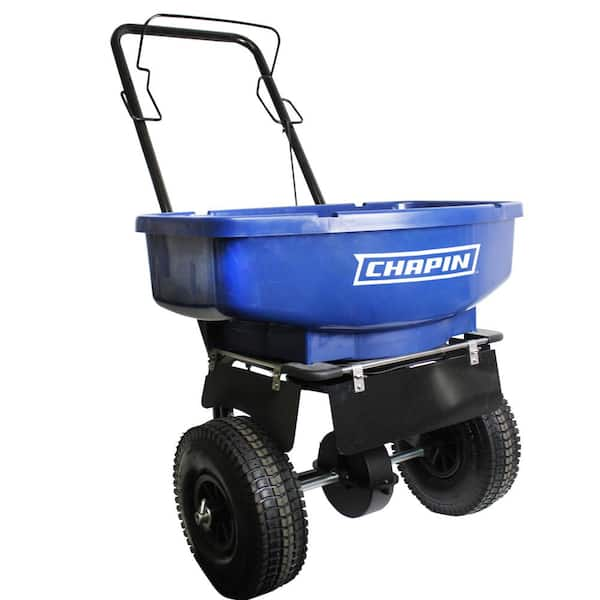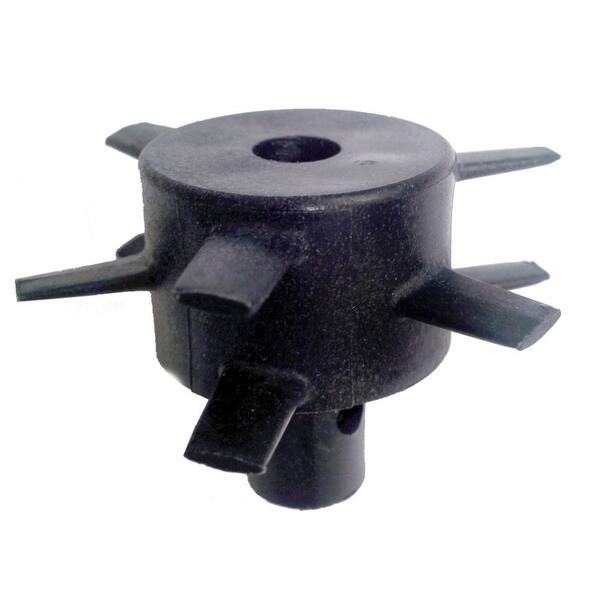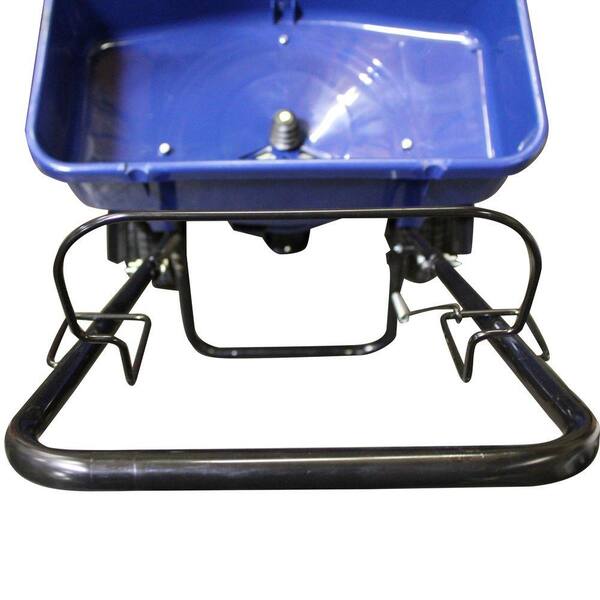 Manuals and Support