TREBLAB  Main Street 4.1-in 10-Watt Smart Indoor/Outdoor Outdoor Speaker
     TREBLAB FX100 – Long Lasting, Outdoor Wireless Speaker! Key Features: ENJOY THE BEST SOUND – Turn it up and experience 360° surround sound with no distortion; hear the same crystal clear highs and thumping bass at all sound levels.
     THE LOUDEST PORTABLE SPEAKER – Make and receive calls using the built-in noise-cancelling microphone to enjoy crystal clear conversations. It makes a steady and unbreakable connection with all Bluetooth-enabled devices.
     This rugged piece of kit is jam-packed with tech that will blow your toe-tapping socks off. A durable carabiner offers the ideal solution to music on the move. This waterproof speaker will blast out crystal clear sound from the surf to the snow and back again!
     IT REALLY IS A LITTLE POWERHOUSE – The perfect partner for fitness explorations, it'll even charge your cellphone for you. 100% Satisfaction Guarantee – Make everything you do more fun with FX100 waterproof Bluetooth speakers or we'll refund you! 1-Year Warranty and 30-Day Returns makes the best Bluetooth speaker a zero-risk purchase. Also, enjoy our world-famous A++ Customer Care.
Playtime: Up to 35 hours
Water Resistance: IPX4
Frequency: 80 Hz-20 kHz
Signal Range: 33 feet or 10 m
Function: Bluetooth 5.0, Built-In Microphone, AUX, FM Mode, TWS Support
If everything outdoors is your kinda thing, get ready to fall in love with the FX100 – our newest
Built-in 7000mAh Powerbank heavy duty rechargeable battery to easily recharge all your mobile devices
Impactful Loud Stereo Sound – External noisy conditions are no match for our newly-developed. Just turn the volume up, relax and absorb true 360° surround sound, thumping bass and crystal clear highs out in the open or indoors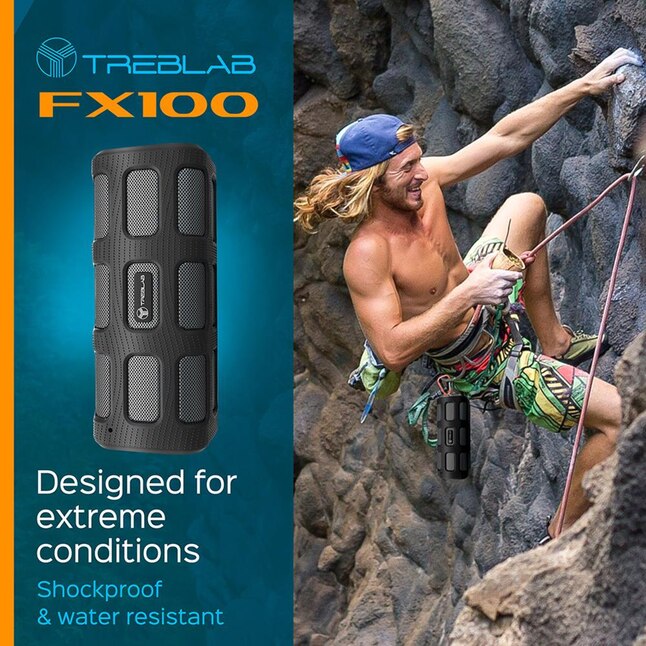 Review this product on Youtube