TEKTON PLR99020 Diagonal, Groove, Linemans, Long, Slip Pliers Set (6-Piece)
Clean Cut with Minimal Effort: Optimizing the bevel angle of the blades on the diagonal cutting, long nose, and lineman's pliers allows them to be strong yet sharp, producing a satisfyingly smooth, clean cut that requires minimal effort. After the full pliers have been heat treated, a secondary induction-heating process hardens just the blades to 58 HRC to 64 HRC, making them extremely durable and able to cut tougher materials. Thick Jaws with Fine Tips: Tapering to a fine tip just at the nose, the jaws of the 8 in. pliers are thick and wide at the base so they won't roll over each other or separate when you are aggressively pulling or twisting. Ultimate Versatility: The slip joint pliers 3-zone jaws grip almost any shape, including flat stock, thin sheet material, pipe and tubing in a full range of sizes, hex and square nuts, and bolt heads. At the base of the jaws is a shear-type wire cutter that cleanly snips soft metals as well as hardened steel like piano wire. Angled Teeth: The sharp teeth of the groove joint pliers are set at an angle to work with the direction of operation, creating a high-leverage nonslip bite like a pipe wrench.
Diagonal cutting pliers with induction-hardened blades cleanly snip copper, aluminum, and soft steel wire in solid, stranded, and braided forms
Strong, stout long nose pliers with crosscut teeth have thick jaws that taper to a fine tip just at the nose to prevent twisting
Linemans pliers feature flat, squared off jaws for twisting wires together and side cutters for snipping copper, aluminum, and steel wire
Slip joint pliers use universal 3 -zone jaws to grip a wide variety of shapes and a shear-type wire cutter to snip soft and hard wire
Groove joint pliers use sharp, angled teeth to create a sure, directional bite like a pipe wrench
1-piece long nose pliers: 8 in.
1-piece diagonal cutting pliers: 7 in.
1-piece lineman's pliers: 9-1/2 in.
2-piece slip joint pliers: 6-1/2 in., 8 in.
1-piece groove joint pliers: 10 in.
Details
| | | | |
| --- | --- | --- | --- |
| Color Family | Multi-Colored | Hand Tool Type | Plier Set |
| Individual/Set | Set | Number of Pieces | 6 |
| Pack Size | 1 | | |
| Tool Set Type | Plier Sets | Tools Product Type | Hand Tool |
Warranty / Certifications
| | | | |
| --- | --- | --- | --- |
| Manufacturer Warranty | No time limits, no receipts: tekton.com/tool-help | | |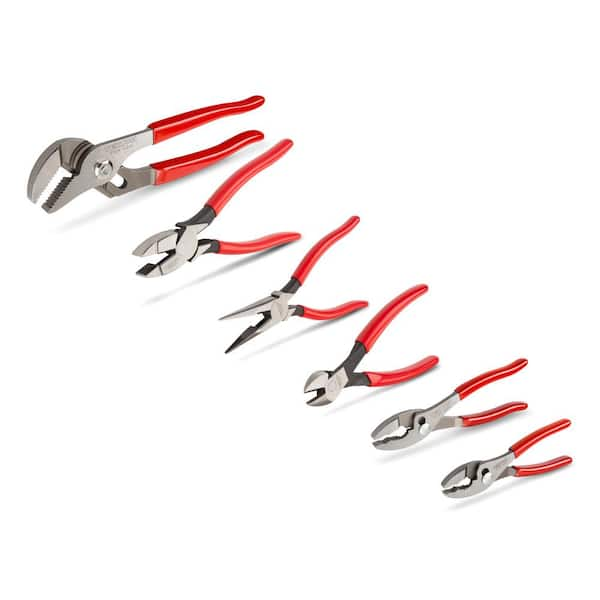 Manuals and Support