TRINITY 6-Tier Wire Shelving Rack, 48″ x 18″ x 72″ NSF, Includes Wheels
TRINITY'S NSF certified heavy-duty commercial grade EcoStorage wire shelving rack is perfect for any industrial, home, garage, or kitchen use. With an 4,800 lb. weight capacity per shelf on feet levelers, it can hold any of your boxes, cookware, tools and everything in between. Assembly requires no tools and uses a slip-sleeve locking system allowing shelves to be adjustable in 1-inch increments.
Nsf Certified | Heavy Duty Wire Shelving Construction | Adjustable Shelves

Eco Storage Finish Represents Production Where No Toxic Chemicals Are Released Into The Environment During The Production Of This Product

Total Weight Capacity On Feet Levelers: 4, 800 Lb. (800 Lb. Per Shelf)

Total Weight Capacity On Wheels: 800 Lb. (133 Lb. Per Shelf)

Includes Back Stands To Ensure Products Don'T Fall Off The Shelf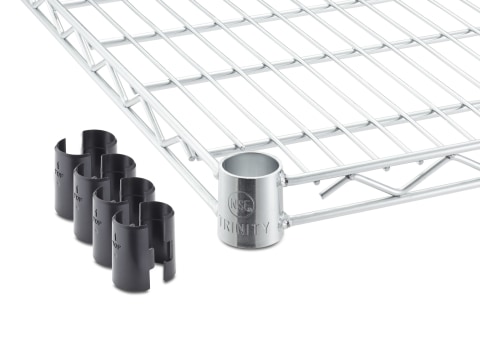 Adjustable Shelves in 1″ Increments
For Personal Configuration
Uses a slip-sleeve locking system that allows you to adjust the shelves of your unit in 1″ increments for your personal configuration.
NSF Certified
The NSF mark means that everything from the product design to materials used have been tested and conform to 3rd party food equipment safety and sanitization standards.
(http://info.nsf.org/Certified/Food/Listings.asp?Company=C0024750&Standard=002)
Finishing Touches
Backstands are included for each shelf to ensure items won't fall off the edge when moving the rack from one place to another.