PetSafe Kibble Chase Roaming Treat Dropper Dog Toy, Small
The treat chase is on! The PetSafe Kibble Chase Roaming Treat Dropper is an interactive dog toy that will get your pup excited about play time. Simply load it with kibble, turn it on and watch the fun begin. The battery-powered toy rolls around in a random path on the floor, dispensing treats as it goes. As a perfect option for dogs who eat too quickly, this treat puzzle is a great slow feeder and can hold up to half cup of kibble. Tough rubber wheels roll quietly and easily on most indoor floor surfaces.
Keeps your Dog's Interest – Engaging toy moves in an unpredictable rolling action while randomly dropping treats to entice your dog
Encourages Active Play – Fun automatic movements keep dogs of all sizes busy with a game of chase and treat
Slow Feed Solution – The adjustable window opening allows you to control how quickly food is dispensed; holds up to half cup of dry kibble or hard treats under half an inch wide
Quality Construction – Durable plastic shell and secure battery door stand up to rough play, and the tough rubber wheels roll quietly and easily on most indoor floor surfaces
Sleep Mode – This electronic toy gives your dog a break after 10 minutes, but will be ready to play again if nudged; requires 3 AA batteries (not included)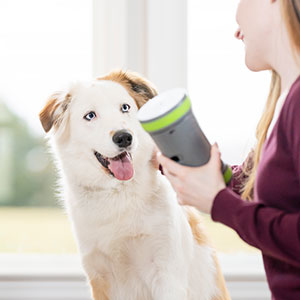 Keep Your Dog Movin'!
Get your pup active while indoors with the PetSafe Kibble Chase Roaming Treat Dropper. This interactive toy will keep your dog on his paws as he chases it along its random path. From playtime to dinner time, PetSafe brand is here to help you and your pet live happy together.
A Company You Can Trust
Global leader in pet products for nearly 30 years

U.S.-based experts available Monday through Saturday

Warranty included

We help pets and their people live happily together!
Get Straight to Playtime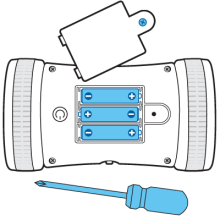 1. Insert Batteries
Unscrew the battery door, insert 3 AA batteries (not included), then secure the battery door in place.Batteries last about 30 days with twice-a-day playtime.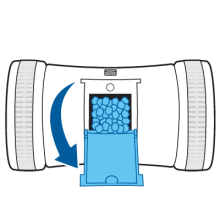 2. Add Kibble
Open the treat hopper and fill with dry kibble or hard treats 1/2″ wide.You can even adjust how much kibble drops with the dispense window!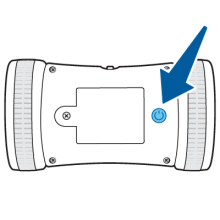 3. Turn On
Press the power button to get the wheels spinning!Switch between hardwood (slow) and carpet (fast) modes by simply pressing the button again.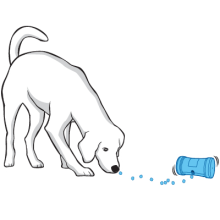 4. Get Rolling
Place the toy on the ground and let the good times roll! Remember to always supervise play.Power off manually or let the toy turn off for you (automatically times-out after 60 minutes of inactivity).
Keep Your Pup Busy with PetSafe Dog Toys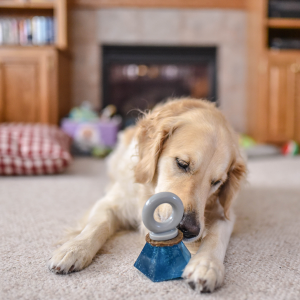 Treat Ring Toys
Keep your dog distracted with PetSafe Treat Ring Dog Toys. Redirect unwanted chewing behavior into positive playtime.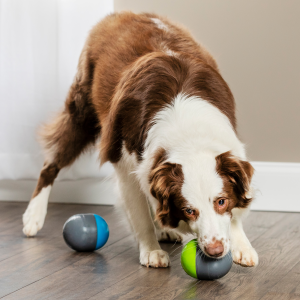 Interactive Toys
Actively entertain your dog with PetSafe Interactive Toys. These electronic toys give your dog engaging playtime.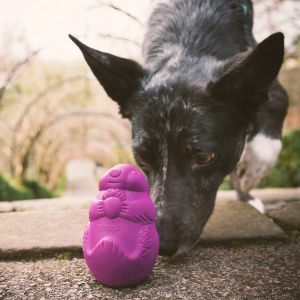 Treat Dispensing Toys
Reward your dog for playing with the PetSafe Treat Dispensing Dog Toys. Add treats in the toy to spice up your dog's playtime.