WERNER MT-18IAAXTHD 18 ft. Reach Aluminum 5-in-1 Multi-Position Pro Ladder with Powerlite Rails 375 lbs. Load Capacity Type IAA Duty
WERNER has introduced their LIGHTEST 375 lbs. Duty Rating Multi-Position ladder with new POWERLITE rails, which is almost over 10% lighter than the previous version. This NEW and innovative 18 ft. reach Multi-Position Ladder includes 24 adjustable positions which allow you to do more jobs quickly and safely and still meets the needs of the PRO. No additional purchases are necessary for any of the 4 positions. This ladder is really 5 ladders in 1 (Extension Ladder, Double-Sided Twin Step Ladder, Stairway Ladder, Wall Ladder and 2 self-supported Scaffolding Bases). The new and improved shatterproof aluminum J-Locks are easy to operate and the oversized impact resistant push knobs will protect your ladder for years to come.
Lightest weight 375 lbs. multi-position ladder from WERNER
Do more with less, 5 ladders in 1 (extension ladder, double-sided twin step ladder, stairway ladder, 90 wall ladder and as 2 self supported scaffolding bases)
Increased durability with new shatterproof j-locks and oversized push knobs
Extra-wide flared bottom for firm support
Slip-resistant feet
Adjustable telescoping design for maximum versatility
Designed for 1-person or 2-person jobs
Size refers to the ANSI definition of length, ANSI code: A14.2-2017 6.2.4
New industrial design
Shatter-proof J-locks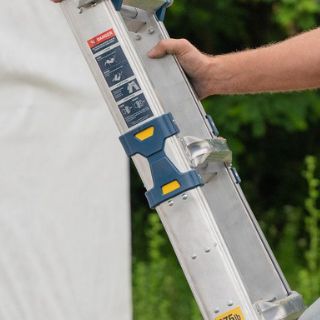 Powerlite Rails
This aluminum ladder has reduced rail weight, making it easier to unload, extend and set up.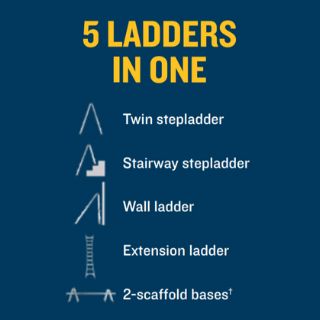 5 Ladders in One
Easily converts into 5 different ladder positions: extension ladder, leaning ladder, double-sided twin step ladder, stairway ladder and 90° wall ladder.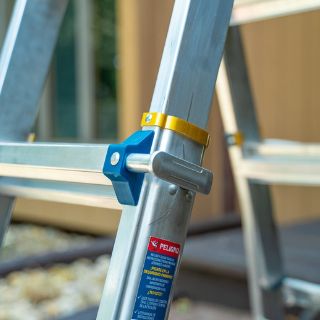 Shatterproof J-Locks
Made with high-grade aluminum and engineered for comfort and durability.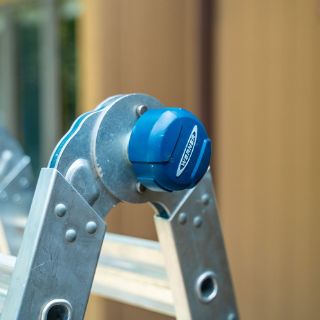 Oversized Push Knobs
Rubberized push knobs are impact resistent for increased durability.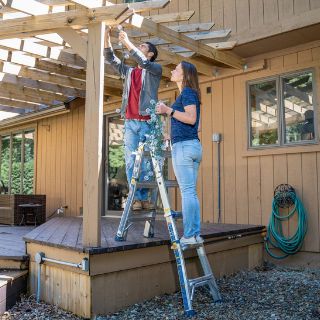 Twin Step Ladder
Can be used as a 2-person step ladder for maximum efficiency.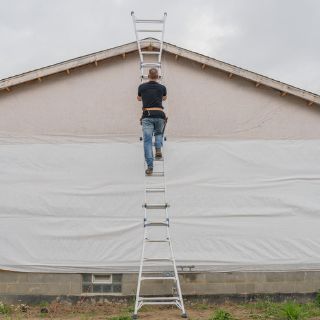 Extra-Wide Base
Extra wide base provides firm support.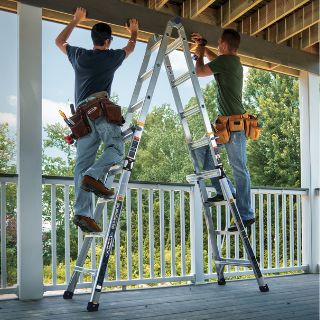 Telescoping Design
Adjustable telecoping ladder design for maximum versatiility to work at higher heights.
Slip-Resistant Feet
Provide comfort when standing and safety when climbing the ladder.
Additional Resources
From the Manufacturer