OKLAHOMA JOE'S 20202114-2S Rider 600 G2 Pellet Grill in Black with 617 sq. in. Cooking Space
The Oklahoma Joe's Rider 600 Gen2 Pellet Grill packs versatility, ruggedness and flavor into a modest footprint. It features 617 sq. in. of porcelain-coated cast-iron cooking space – more than enough room to cook a flavorful family dinner. Equipped with the Flex Racks System, the Rider 600 can be easily customized with additional racks (sold separately) to create unique cooking setups. The easy-to-use, electric-powered Pit Control System can be set to cook for a desired amount of time or to hit an ideal internal temperature. What's more, switching out and storing hardwood pellets is made simple with the 20 lbs. capacity QuickDraw Hopper. for effortless wood-fired flavor in a convenient size, the Rider 600 packs a big punch.
TYPE: Pit control system offers smarter cooking with 2 distinct guidance features: timer mode – indicates when you've reached a set amount of time at your desired temp temp-probe mode – indicates when your food has reached its target internal temp
FLEX SYSTEM: Flex racks system integrates easily for added versatility, allowing for a wide variety of configuration options (additional racks sold separately)
SIZE: 617 sq. in. of total capacity means enough space for main dishes and sides
CLEANING: Quickdraw Hopper with 20lb. capacity allows unused pellets to be drained in seconds for simple storage, removal and swapping of pellet flavors and removable ash cup for fast clean-ups.
Fueled by all-natural hardwood pellets for rich wood-fired flavor and grounded electric outlet required for operation
MATERIAL: Heavy-gauge steel construction for durability
FEATURES: Dual smokestacks for better temperature control. Rubber handles for an easy grip. Modular side shelf and towel bar with tool hooks and four meat probe ports with probe storage (one probe included).
MOBILITY: Wagon-style wheels for easier mobility
INCLUDED COMPONENTS: 1 pellet storage bucket, 1 drip bucket, 1 meat probe, modular side shelf, towel bar, 4 tool hooks, 1 large Flex System cooking grate, and 1 smaller Flex System cooking rack
FLEX SYSTEM: Optional Flex System racks sold separately – Drumstick & Pepper Rack (315505449), Multi-Purpose Rack (315505447), and Rib Rack (315505450)
WARRANTY: 2 years on all parts – grounded electric outlet required for operation
ASSEMBELED DIMENSIONS: 35.5″Dx47.9″Hx38.9″W and 149.9 lbs.
Dimensions
| | | | |
| --- | --- | --- | --- |
| Assembled Depth (in.) | 35.5 in | Assembled Height (in.) | 47.9 in |
| Assembled Width (in.) | 38.9 in | | |
Details
| | | | |
| --- | --- | --- | --- |
| Accessories Included | No Additional Items Included | Assembly Required | Yes |
| Color | Black | Fits No. of Burgers | 24 |
| Front/Side Shelf | Fixed | Grill Color Family | Black |
| Grill Grate/Surface Material | Porcelain-Enameled Cast Iron | Grill Material | Painted Steel |
| Grill Wheels | Two | Grill/Smoker Category | Freestanding/Cart Style |
| Grill/Smoker Features | Adjustable Air Vents, Automatic Auger, Digital Temperature Control, Grease Pan, Heat Thermometer, Removable Ash Catcher, Rust Resistant, Storage Rack, Tool Holder, Warming Rack | Grill/Smoker Fuel Type | Pellet |
| Hopper Capacity (lb.) | 20 | Ignition Type | Electrical |
| Includes Grill Cover | Without grill cover | Number of Side Burners | 0 |
| Outdoor Living Product Type | Wood Pellet Grill | Primary Cooking Space (sq. in) | 600 sq in |
| Product Weight (lb.) | 149.9 lb | | |
Warranty / Certifications
| | | | |
| --- | --- | --- | --- |
| Certifications and Listings | CSA Certified | Grate Warranty | 2 Years |
| Overall Grill Warranty | 2 Years | | |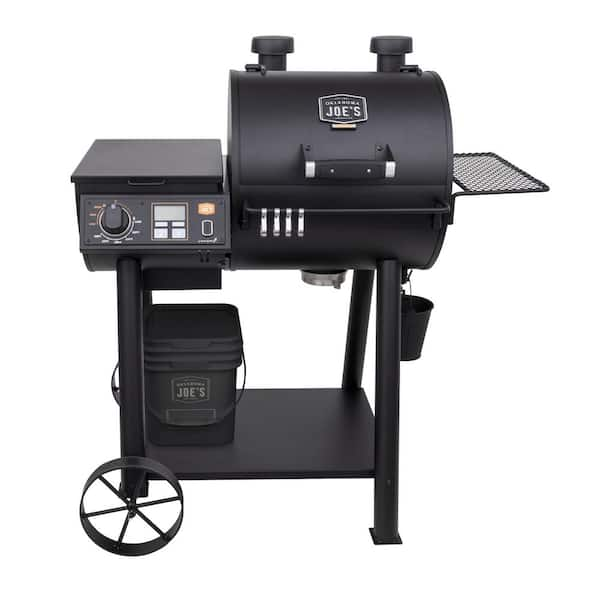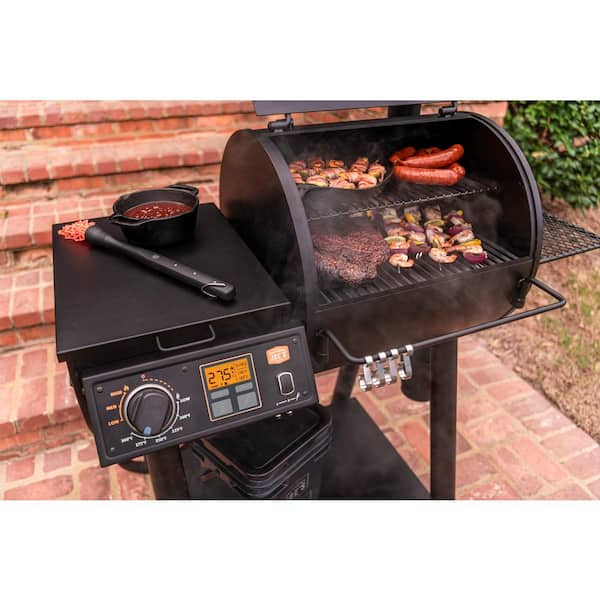 Manuals and Support